Bug report #18384
Combination of segments_to_lines($geometry) and @geometry_part_num gives wrong segment numbers
| | | | |
| --- | --- | --- | --- |
| Status: | Closed | | |
| Priority: | High | | |
| Assignee: | Nyall Dawson | | |
| Category: | Symbology | | |
| Affected QGIS version: | 3.5(master) | Regression?: | Yes |
| Operating System: | Windows 10 & Ubuntu Linux 17.10 | Easy fix?: | No |
| Pull Request or Patch supplied: | No | Resolution: | |
| Crashes QGIS or corrupts data: | No | Copied to github as #: | 26274 |
---
Description
When creating a style (segments.qml) for a polygon layer I noticed a difference between QGIS 2.99 (Windows standalone installer) and QGIS 3.0 (OSGeo4W) when I use segments_to_lines & @geometry_part_num.
I created a polygon layer and added some polygons.
Then I started editing the layer style:

I added a Geometry generator as symbol layer to create a Linestring type that contains segments_to_lines($geometry)
Then I changed the line type of the result to a "Marker line"
Then I changed the Symbol layer type of this "Marker line" to "Font marker"
Then I changed the "Data defined override" of the content of this font marker to @geometry_part_num
Then I changed the font size of the font marker
The results are different in QGIS 2.99 and 3.0 (see images below). Is this a bug in 3.0 or is it an intentional change? The result in QGIS 2.18 is the same as in 2.99. The result in QGIS 3.1 is the same as in 3.0. I also tested it in QGIS 3.0 on Ubuntu 17.10 it gives the same result as 3.0 in Windows.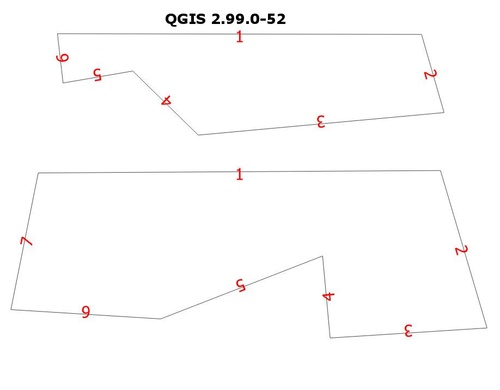 History