Bug report #9881
Improve GUI consistency & UX for data-defined style
| | | | |
| --- | --- | --- | --- |
| Status: | Closed | | |
| Priority: | Normal | | |
| Assignee: | Mathieu Pellerin - nIRV | | |
| Category: | GUI | | |
| Affected QGIS version: | master | Regression?: | No |
| Operating System: | | Easy fix?: | No |
| Pull Request or Patch supplied: | Yes | Resolution: | |
| Crashes QGIS or corrupts data: | No | Copied to github as #: | 18402 |
---
Description
The GUI for data-defined settings is currently not consistent between style and label window: in the style window, there is an extra button to set data-defined settings. It is not possible to see directly which settings are data-defined.
The solution in the label window is better UX-wise: There is a dedicated button besides every option which can be data-defined. On mouse-over, there is a short help. On click, it's possible to directly chose the column which should be used. If data-defined settings are active, the button/icon is highlighted.
I think the label solution should be applied to the style window as well.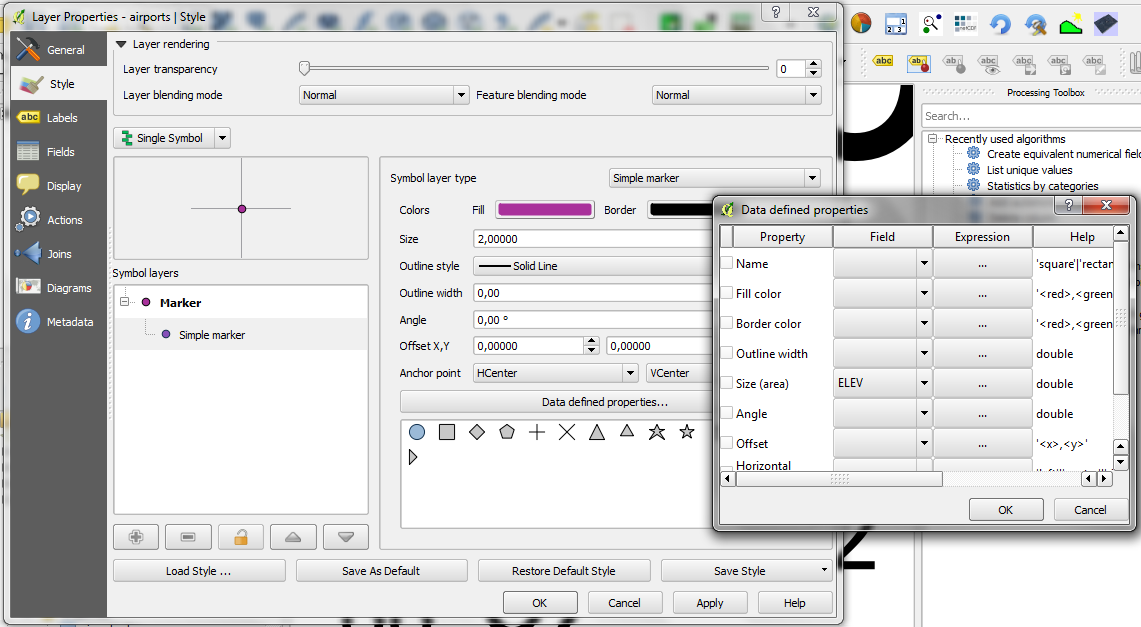 original discussion: http://osgeo-org.1560.x6.nabble.com/Duplication-of-functionality-Data-defined-size-and-Size-scale-field-td5131007.html
History