Bug report #21529
Measuretool behaving strange
| | | | |
| --- | --- | --- | --- |
| Status: | Open | | |
| Priority: | Normal | | |
| Assignee: | Raymond Nijssen | | |
| Category: | Map Tools | | |
| Affected QGIS version: | 3.7(master) | Regression?: | No |
| Operating System: | | Easy fix?: | No |
| Pull Request or Patch supplied: | No | Resolution: | |
| Crashes QGIS or corrupts data: | No | Copied to github as #: | 29345 |
---
Description
Recently there was a fix for the fact that when after using the Measure tool, and selecting another tool, the lines kept showing on the map.
Now they are hidden when the measure tool are hidden, but now if you deactivate the tool by activating another tool, the click of the (new) tool is taken as segment point. So you end up with this extra line.
Another issue is that if you repeatedly click the measurement tool (activating/deativating) you end up with something like this: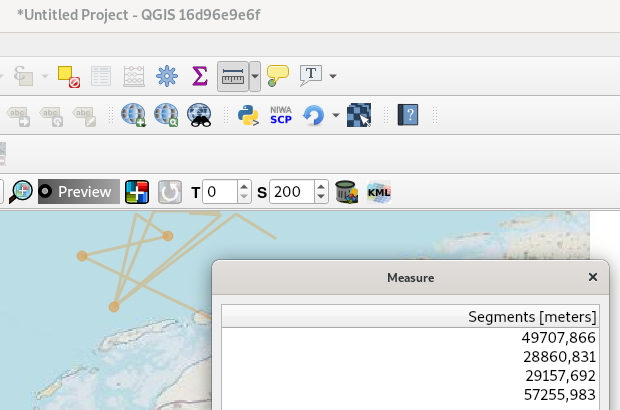 Maybe it is an option to remove the last Segment end when the measure tool is ACTIVATED AND if there is an excisting rubberband/line?
History
Category changed from Digitising to Map Tools