Bug report #14933
Geometry generator symbol layer crashes QGIS for invalid SpatiaLite geoms
| | | | |
| --- | --- | --- | --- |
| Status: | Closed | | |
| Priority: | Severe/Regression | | |
| Assignee: | - | | |
| Category: | Symbology | | |
| Affected QGIS version: | 2.14.3 | Regression?: | No |
| Operating System: | | Easy fix?: | No |
| Pull Request or Patch supplied: | No | Resolution: | worksforme |
| Crashes QGIS or corrupts data: | Yes | Copied to github as #: | 22884 |
---
Description
QGIS crashes if the invalid polygon in the attached Spatialite db is rendered with a geometry generator with centroid function: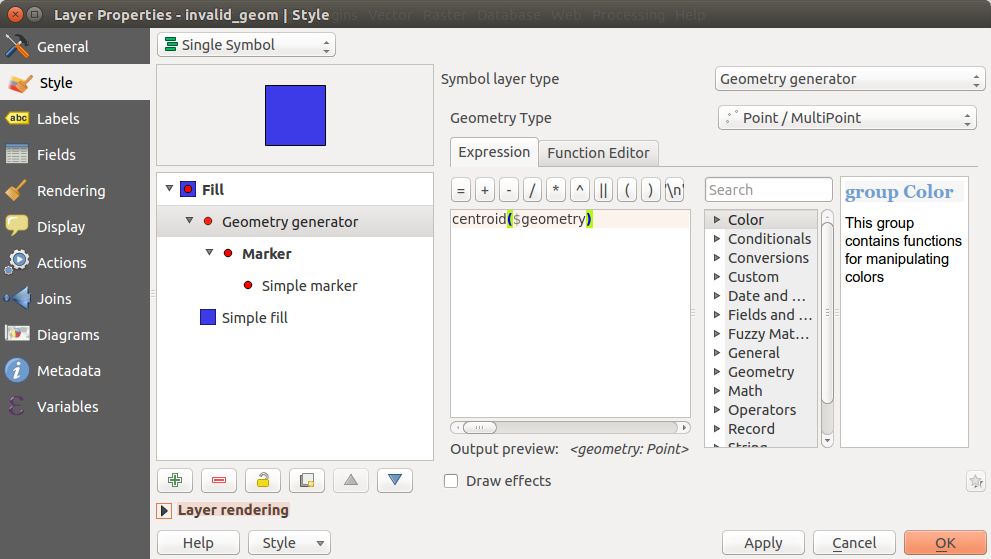 There is no crash if the same feature is saved to Shapefile for example.
Tested with 2.14.2 on Ubuntu and 2.14.3 on Windows.
History
Resolution set to worksforme
Status changed from Open to Closed
Cannot reproduce on master and on release-2_14 branch.
Please verify on master and a nightly build of the release and reopen (with more information, e.g. backtrace if somehow possible).