Bug report #14152
Form annotation crashs QGIS with Segmentation fault (core dumped)
| | | | |
| --- | --- | --- | --- |
| Status: | Closed | | |
| Priority: | Severe/Regression | | |
| Assignee: | Martin Dobias | | |
| Category: | Map Tools | | |
| Affected QGIS version: | master | Regression?: | No |
| Operating System: | | Easy fix?: | No |
| Pull Request or Patch supplied: | No | Resolution: | |
| Crashes QGIS or corrupts data: | No | Copied to github as #: | 22154 |
---
Description
Trying to use Form annotation, once you select a ui file and press OK, QGIS master crashes.
This works fine in QGIS 2.8.6 following Tim Sutton instructions here:
[[https://youtu.be/0pDBuSbQ02o?t=2m25s]]
You can try to replicate the bug using the annotation_form_example.ui file with the Regions Layer of the QGIS Sample Data (Alaska Dataset). Both in attachment.
Add Region Layer to QGIS and make it active
Using the form annotation tool, click over a region polygon
Double-click the created annotation to access setting
Select the annotation_form_example.ui and press OK
If everything went well, the form should appear inside the annotation.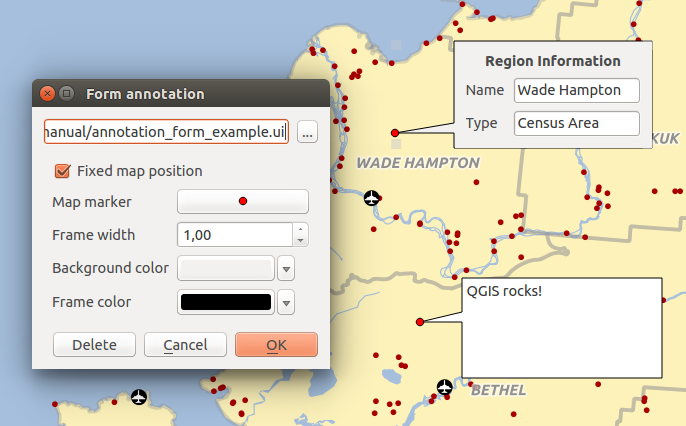 Instead, QGIS exits with Segmentation fault (core dumped)
But instead QGIS crashes with the followin message:
---
History