5. QGIS Hackfest in Lisbon 2011¶
The Quantum GIS project will hold a QGIS Developer Meeting, aka 'QGIS Hackfest' in Lisbon, Portugal.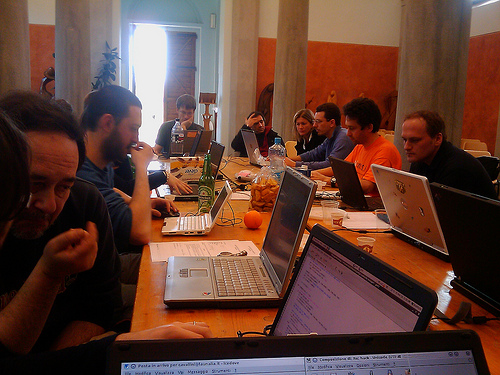 Purpose¶
Get together QGIS project members to make decisions and tackle larger problems. As usual, for this meeting we welcome people committed to improving the Quantum GIS project. This includes developers, documenters, bug reporters, translators etc.
FAQ¶
Is the QGIS Hackfest just a coding event?

It is mainly a coding and documentation event. It is a working session for people who are already participants in the QGIS project and/or are committed to improving the QGIS project.
On demand we can do some presentations of current working qgis implementation and new upcoming features to spread the idea of openGIS software

Is the QGIS Hackfest for developers only?

No: anybody can help, with testing, checking out bugs and fixes, documentation and more.

Where can I get help and more information about the hackfest?

Contact Vânia Neves <vania.neves at faunalia dot pt>
Sponsors & Organization¶
We welcome financial contributions to support the meeting and we are still looking for sponsors to cover costs such as meals or to help reducing travelling and accommodation expenses for QGIS developers with far arrival. If you are also interested to sponsor the QGIS hackfest, please contact Paolo Cavallini <*cavallini at faunalia dot it*>. Any surplus at the end of the event will be turned over to the Quantum GIS project (find more information about QGIS sponsorship HERE).
The fifth QGIS hackfest is a great occasion for you to support the development of QGIS. With your contribution you'll enable more developers to meet in Lisbon. The hackfest is an important opportunity for the QGIS developers to discuss and collaboratively resolve bugs, plan the direction for the project and work on new features. The developers and contributors are donating their valuable time, so it would be great if in-kind funding can be made available from within the community to cover out-of-pocket expenses. All of the work that takes place at the hackfest will be directly contributed back into the QGIS project to the benefit of everyone who uses it.
This edition of the Hackfest is organized by Vânia Neves and Giovanni Manghi (Faunalia.pt ) and MUNICIPIA. The event will be partially supported by MUNICIPIA and by the local OSGeo chapter.



Period and location¶
Spring 2011, Lisbon, Portugal.
Dates¶
Thursday -> Monday
(14)-15-16-17-(18) April 2011
Duration:
Thursday is day of arrival - probably first meeting in the evening to discuss a bit what has to be done
Friday to Sunday full day
Monday is day of departure - probably hacking for people with a flight later in the evening
Of course you are invited to join or leave the hackfest whenever you want.
Venue¶
University of Lisbon, Institute of Geography and Land Management
Address:
Instituto de Geografia e Ordenamento do Território
Edifício da Faculdade de Letras
Alameda da Universidade
1600-214 LISBOA
The venue is inside of the "cidade universitaria" neighborhood that hosts many other faculties/departments, so it is a place crowded of students, with many bars and small restaurants.
QGIS "Day"¶
As a "side" event, on the afternoon of the 14th of April we will tentatively organize a "QGIS DAY" a informal meeting where we hope to gather a few of the QGIS users of the Portuguese community, and have presentations of the Portuguese Case Studies (plus source:-um-caso-de-estudo?redirect=%2Fweb%2Fguest%2Foutras-noticias" class="external">this). Hopefully we will have also at least one core QGIS developer to show the future developments of QGIS. The venue for this event will be the same of the Developer Meeting (see below) and will start after lunch at 02:30PM.
The program of this meeting will follow in this page as soon as we will receive confirmation from the invited speakers.
The meeting is open but due to the limited number of places available it is necessary to fill this FORM in order to reserve your place (SUBSCRIPTIONS CLOSED).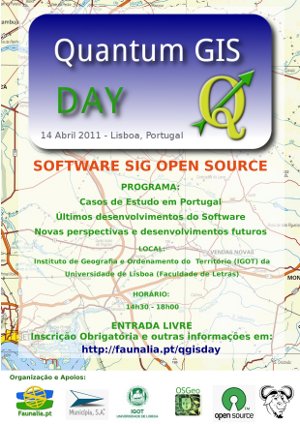 QGIS DAY PROGRAM:
14:30 Introduction
Welcome by:
Sub-Director of the IGOT, "Instituto de Geografia e Ordenamento do Território", Prof. Dr. Catarina Ramos
QGIS Project Steering Committee representatives
OSGeo local chapter members
15:00 Case Studies Presentations
"*Implementação da IDE no Municipio de Oeiras*", Dr. Ana Oliveira
"*QGIS and GRASS applied to paleontological survey in Western Portugal*", André Mano
"*Quantum GIS and GRASS in Biogeographical Research in Spain and Portugal*", Marcia Barbosa
"*ARH Tejo. SIG Open Source: um caso de estudo*", Luís de Sousa
16:30 Coffee Break
16:45 (Future) QGIS developments
"*Latest QGIS developments: new tools in QGIS 1.7*", Faunalia
Transportations¶
There are many transportation available, especially buses and a metro
station (called "cidade universitaria") just a few meters away.
(Diagram of the Lisbon Metro)
One ticket for the Metro is 0.90 Euros, while a one day ticket is 3.95 euros, but you can use it also on buses. Metro last ride is at 01:00AM and first ride is at 06:30AM.
Photo and Map of the Venue:
Reaching the Venue and transportations at the airport
The Institute is located in the "university city" (cidade universitaria) neighborhood, nearby (more or less 2 km away) the international airport. The airport is served also by low cost companies and the city is also reachable by train or car -> Itineraries from Porto and from Madrid
After arriving at the airport (that doesn't have a metro station) you will have many options:
take a taxi to the Venue (3/4 minutes away)
take a taxi to your hostel/hotel or to the nearest metro station (3/4 minutes away)
take the AEREOBUS a special bus (costs 3.5 euros) that brings you directly from the airport to the city centre and that stops (on request) in many hotels along the road.
Program¶
Note: The program is generally open for your ideas. Please write an email to the QGIS developer list to discuss your contribution.
Topics¶
Roadmap to QGIS 2.0 (martin)

changes in the architecture
schedule

GUI review - started in Wroclaw, but not finished (martin)
Update of GRASS modules (pcav)
See http://grass.osgeo.org/wiki/GRASS-QGIS_relevant_module_list
Adding new icons to GRASS modules (pcav)
Issue: how to add repeated icons in different modules? Add an option to specify the name of the icon file, add symlinks, or palinly copying them over and over?
Clean the BUG queue (Giovanni)
Update qgis manual for 1.7, prepare PoD (Print on Demand) (Otto)
Review and apply/discard all patches in the bug tracker
Python plugins development tools - e.g. pip, virtualenv (aghisla)
Minimal tests for Python plugins - e.g. with python-nose (aghisla)
Simplify the wealth of webapp currently in use
Customization project presentation Snapshot (Radim)
QGIS browser (Martin)
Next hackfest (Marco)
Townhall Meeting¶
Scheduled at 4pm Lisbon time on Sunday 17 APril (UTC +1, hence 5 pm in the rest of Western Europe).
This will be an hour or two that we set aside to talk about 'big picture' things relating to the project. Gary Sherman (PSC Chair) and any other remote attendees who wish to attend will attend virtually via skype.
Meeting data: TBA
Meeting time: TBA
Items for discussion:
Meeting kickoff from Gary
Moving to GIT and leaving behind SVN (see also MovingToGIT )(TS)
Moving to Redmine as a single unified tracker and leaving behind trac (TS)
Financial report: Paolo (project finance representative) (PC)
Certification Programme: Status, Problems and Plans (Robert)
QGIS 2.0 Roadmap
Julien Malik: Orfeo Toolbox and the state of the different initiatives to integrate it into QGIS.
Future directions for development (e.g. geometry) (MH)
If possible, I propose that Gary Chairs the meeting via skype. Any other agenda items should be added above.
Accommodation and Costs¶
Participants should plan for the following costs:
Travel to Lisbon, variable depending on where you come from.
Accommodation and meals
Closest hotels/hostels (with prices):
Hostels (Pousadas da Juventude):
Hotels:
Just a metro stop farther than the 'Pousada de Juventude Lisboa' one there are de Pombal and Avenida da Liberdade* one of the main squares and avenues of Lisbon. Around this square and avenue there are a lot of Hotels. Examples:
Other Hotels nearby the Venue:
There are many other hotels/pensions available in the Saldanha/Marques de Pombal/Avenida da Liberdade area (locations along the way to the Venue). You may want to use one of the following sites to check about availability and prices. The strong suggestion is to choose a place that is near a metro station, this way you'll always be in condition to reach the venue easily.
We will cover as much as possible (in particular for core developers) thanks to our sponsors.
Maps¶
Venue building map:
http://www.qgis.org/qgiswiki/images/a/a5/Qgis_day_and_meeting_map1.png
Venue neighbourhood map:
http://www.qgis.org/qgiswiki/images/3/37/Qgis_day_and_meeting_map2.png
Route to Ibis Saldanha Hotel:
http://www.qgis.org/qgiswiki/images/c/c2/Route_to_ibis_saldanha.png
Route to Lisbon Student House:
http://www.qgis.org/qgiswiki/images/1/19/Route_to_student_house.png
Route to Mercure Hotel:
http://www.qgis.org/qgiswiki/images/8/88/Route_to_mercure_hotel.png
Individual Preparation¶
Bring your own computer
Install subversion and the compiler tools, and come with a working QGIS development environment if possible.
Weather and common item prices¶
In april the weather is usually warm (20 or more degrees by day), but remember that Lisbon is a windy city, you'll always need a jacket by night. In spring it can occasionally rain.
A espresso coffee is 0.55/0.60 euros, a beer in a common bar is around 1/1.5 euros (can be more in more fancy bars, like in the ""Bairro Alto"":http://en.wikipedia.org/wiki/Bairro_Alto). In Lisbon you can still have a full meal for 7-10 euros (usually in the small "tascas", the typical popular restaurants), but beware from tourist restaurants, the prize can easily rise.
Participation¶
We are planning for attendance of 20/30 people (hacking places). Please add your name here or contact Vânia Neves (vania.neves at faunalia dot pt):
| | | | | | | | | |
| --- | --- | --- | --- | --- | --- | --- | --- | --- |
| *#* | Participant | Country | Arrival | Departure | Notes | QGIS DAY | T-Shirt | Dinner, thursday 14th |
| 1 | Tim Sutton | South Africa | 09.04 | | Lisbon Student House | yes | M | yes |
| 2 | Paolo Cavallini | Italy | 13.04 | 29.04 | Ibis Hotel Saldanha | yes | | yes |
| 3 | Giovanni Manghi | Portugal | From the beginning | Until the end | _ | yes | L | yes |
| 4 | Marco Hugentobler | Switzerland | 14.04 (11:35 Airport) | 18.04. (14:50 Airport) | Ibis Hotel Saldanha | yes | | |
| 5 | Otto Dassau | Germany | 14.04 (15:05 Airport) | 17.04. (13:35 Airport) | Ibis Hotel Saldanha | | XL | yes |
| 6 | Martin Dobias | Slovakia | 14.4. (13:25 Airport) | 18.4. (12:05 Airport) | Lisbon Student House | yes | M | yes |
| 7 | Giuseppe Sucameli | Italy | 13.04 | 18.04 | Ibis Hotel Saldanha | yes | XL | yes |
| 8 | Jean-Roc Morreale | France | 14/04/11 (18h30) | 18/04/11 (19h20) | Ibis Hotel Saldanha | | L | yes |
| 9 | Jorge Rocha | Portugal | 14/04/11 | 15/04/11 | Ibis Hotel Saldanha | yes | | yes |
| 10 | Anne Ghisla | Italy | 13/04/11 (12.20 Airport) | 19/04/11 (13.00 Airport) | Ibis Hotel Saldanha | | M | yes |
| 11 | Jürgen Fischer | Germany | 14/04/11 (15:05 Airport) | 18/04/11 (14:15 Airport) | Ibis Hotel Saldanha | | | yes |
| 12 | Borys Jurgiel | Poland | 13/04/11 (16:05 Airport) | 19/04/11 (11:45 Airport) | Ibis Hotel Saldanha | | XL | yes |
| 13 | Alessandro Pasotti | Italy | 14.04 | 18.04 | Ibis Hotel Saldanha | | L | yes |
| 14 | Radim Blazek | Bohemia | 14.4. (23:35 Airport) | 18.04. (19:05 Airport) | Ibis Hotel Saldanha | | XL | |
| 15 | Peter Wells | UK | 14.04 14:00 | 18.04 15:50 | Ibis Hotel Saldanha | | | yes |
| 16 | Saber Razmjooei | UK | 14.04 14:00 | 18.04 15:50 | Ibis Hotel Saldanha | | XL | yes |
| 17 | Ricardo Garcia | Portugal | 14.04 | 17.04 | _ | | | yes |
| 18 | Gabriele Franch | Italy | 14.04 | 17.04 | Ibis Hotel Saldanha | | | |
| 19 | Davide Albanese | Italy | 14.04 | 17.04 | Ibis Hotel Saldanha | | | |
| 20 | Julien Malik | France | 14.04 (11:50) | 18.04 | Ibis Hotel Saldanha | | | yes |
| 21 | Vincent Picavet | France | 14.04 (late evening) | 18.04 (morning) | city center | | L | yes |
| 22 | Maxim Dubinin | Russia | 13.04 | 18.04 | Lisbon Student House | | | yes |
| 23 | Jože Dete?nik | Slovenia | 14.04 (11:50 Airport) | 18.04 (afternoon) | Hotel Mercure Lisboa | | L | yes (2p) |
| 24 | Diogo Vieira | Portugal | _ | _ | _ | yes | M | |
| 25 | Richard Duivenvoorde | The Netherlands | 14.04 (22:50 airport) | 18.04 (07:15 airport) | Ibis Hotel Saldanha | | | L |
| 26 | Raymond Nijssen | The Netherlands | 14.04 (22:50 airport) | 18.04 (15:35 airport) | Ibis Hotel Saldanha | | | M |
| 27 | Frédéric Ethève | France | 13.04 (20:00 airport) | 15.04 (14:45 airport) | Ibis Hotel Saldanha | | | yes |
| 28 | Luigi Pirelli | Italy | | | | | | |
Contacts¶
For any doubt/question please contact us at vania.neves at faunalia dot pt